Majestic-12 : SEO Services
Data gathered from the Majestic-12 crawler feeds into services provided to the SEO Community via the Majestic.com SaaS platform. Majestic.com offers insight for SEO's, Domain Name traders, Researchers and Digital Entrepreneurs, and is based on the result of years of Research and Development in understanding how Search Engines model the World Wide Web.
What is Search Flow?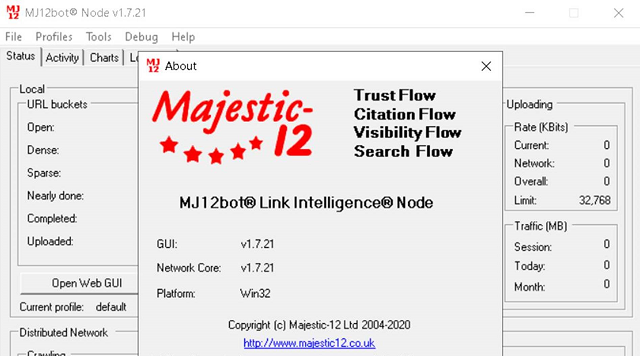 Search Flow refers to Technology and Services which enable Majestic to understand the link between Web Crawling and the Majestic Internet Map. By allocating Scores to different aspects of content, Web crawls can be better guided, resulting in better quality data.
Search Flow helps SEO professionals understand which parts of their site are better connected to traffic from Search Engines.
What is the link between a Web Map, Web Search and Web Crawling?
A web crawl is an essential part of web search. This is because web search engines do not tend to Search the Web, but instead search a copy of it held on the computers owned by the web search engine themselves.
The process of copying the web is known as web crawling. It is an automated process whereby software agents visit websites, and behave in a similar manner to web browsers, downloading content. However, unlike a web browser, which renders a web page and displays it to a user, the web crawler extracts information which is useful to it's owner and stores it for future analysis and research.
It is thought that Web Maps play an important role in Search Engine design. A map of the web provides key valuation signals that enable a relative valuation of the significance of different content and to facilitate the discovery of new content.
Web maps can also inform future web crawls. A well formed web map allows a web crawl to prioritise data gathering so that more important sites are targeted for deeper and more frequent recrawl than smaller niche sites.